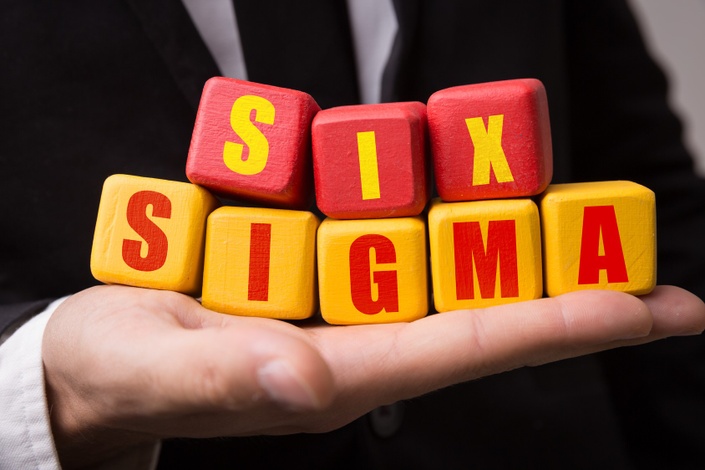 Six Sigma Black Belt
An in-depth look at the Six Sigma Black Belt problem-solving methodology, deployment & project development approaches
Enroll in Course
The Six Sigma Black Belt Online Training Program integrates Six Sigma with hands-on data analysis. The program material provides you with an in-depth look at the Six Sigma Black Belt problem-solving methodology, DMAIC: Define the problem, Measure key aspects, Analyze data, Improve the process, Control the future process. You'll also learn successful approaches to implementing a Six Sigma program in an organization so you can effectively participate in creating credible Lean Six Sigma programs.
This online certificate program is offered in partnership with major colleges, universities, and other accredited education providers.
To learn more about PDUs and how they may fit into your continuing education needs, please visit pmi.org.
Objective
Participate in the development of a successful Six Sigma Program

Contribute to the definition of project selection criteria and develop project proposals to meet those criteria

Lead a Six Sigma project team using the DMAIC problem-solving methodology and team-building skills

Apply and interpret basic and advanced Six Sigma tools, as necessary for project definition, process baseline analysis, process improvement and process control

Demonstrate your skills in an industry-recognized certification exam
Your Instructor

A Senior Consultant with Quality America, Inc. Paul has developed and implemented successful Six Sigma and Quality Improvement programs in service and manufacturing environments. Paul has been with Quality America since 1992, where he has:
Developed and managed systems for overall operations, including quality improvement, product development, partner relations, marketing, sales, order fulfillment and technical support.
Provided primary statistical expertise to our customer base, as well as internal Software Development, Sales and Technical Support teams.
Developed and implemented Six Sigma related courses, including Quality Management, Statistical Process Control (SPC), and Designed Experiments, to hundreds of our companies in a wide variety of industries including Roche Pharmaceuticals, Core3 Inc. Business Process Outsourcing, US Army, MacDermid Printing Solutions, Boeing Satellite, Dow Corning, Antec, Pfizer, Warner Lambert, and many others.
Paul has authored a number of well-received publications, including:
2013: Co-authored Six Sigma Handbook: Fourth Edition (New York: McGraw Hill). Authored series of instructional videos for McGraw-Hill's Access Engineering online program.
2012: Co-authored Handbook for Quality Management, Second Edition: A Complete Guide to Organizational Excellence (New York: McGraw Hill).
2011: Authored SPC Demystified (New York: McGraw Hill).
2010: Authored Six Sigma Demystified: Second Edition (New York: McGraw Hill).
2009: Co-authored Six Sigma Handbook: Third Edition (New York: McGraw Hill).
2005: Author Six Sigma Demystified (New York: McGraw Hill). Over 40,000 copies sold of first edition.2003: Technical Editor Quality Engineering Handbook, Tucson: QA Publishing, LLC.
2002: Contributing Author Manufacturing Handbook of Best Practices, Boca Raton: St. Lucie Press.
2001: Author Six Sigma Deployment, Tucson: QA Publishing, LLC.
2001: Co-author Six Sigma Study Guide, Tucson: QA Publishing, LLC.
2000: Contributing Author Handbook for Quality Technicians and Mechanical Inspectors, Tucson: QA Publishing, LLC.
2000: Contributing Author Handbook for Quality Management, Tucson: QA Publishing, LLC.
1992-present: Numerous articles in professional trade magazines, conference proceedings, and Quality America's Knowledge Center.
Before launching Quality America's training and consulting business in 1992, Paul specialized in Quality Engineering in the Masters Program at the University of Arizona. He applied these techniques as a Quality Manager for a consumer goods manufacturer (1990-1992), and an SPC Director at an industrial products manufacturer (1987-1990). In these roles, he developed company-wide Quality Systems to meet the demands of a diverse customer base, including the automotive and aerospace industries.
Course Curriculum
Six Sigma Introduction
Available in days
days after you enroll
How To Deploy Six Sigma
Available in days
days after you enroll
Six Sigma Projects
Available in days
days after you enroll
The flow of the Black Belt Training Program follows the DMAIC methodology. You'll learn the appropriate tools and concepts at each stage of project development. When students are working in an organization and have access to potential projects sponsored by their management, they are strongly encouraged to develop a project in conjunction with the course. Since software will be used for data analysis, the program material concentrates on the application and use of the tools, rather than on detailed derivation of the statistical methods.
Your analytical and problem-solving skills will be challenged by workshops, which are incorporated extensively throughout the training. A comprehensive study guide that matches the IQF certification exam is provided, with workshop exercises presented as appropriate to each of the online topics. Once you've successfully completed the program, you'll be eligible to work toward a Black Belt Certification through the International Quality Federation (http://iqf.org). Achieving this certification is at your discretion and dependent upon you meeting the criteria the International Quality Federation sets; certification is not automatic upon completion of this program or tied to the accredited college or university you registered through.
This program is entirely online and is completed at your own pace. When you register, you receive six (6) months to complete this program.
Frequently Asked Questions
Can I become black belt certified? And how do I do so?
Upon completing this program, you'll receive a program completion certificate from your accredited college or university. In addition, after completing this program, you'll be eligible to work toward the International Quality Federation (IQF) certification, which is a Six Sigma industry standard certification. The IQF certification does not come through your accredited college or university; it is something you will need to work toward on your own. You will have the option to sit for the IQF certification exam at the end of your program. The cost of this certification exam is included in the cost of the program. A study guide for the IQF exam is included in your program registration materials, and the program itself prepares you for much of the knowledge you need for the IQF certification exam. IQF lets you work toward certification with projects that you complete on your own or certification without projects, which is a good option if you don't have access to related projects in your current job.
How long do I have access to the course?
Being totally self-paced you can access the course at any time. This course gives you 6 months to complete from start to finish.
What happens when I complete the program?
Upon completion you will be awarded a Certificate via email.
Why does this program direct me toward the IQF exam rather than another industry exam?
The IQF certification exam was developed by a group of Six Sigma professionals to address the flaws in some other certification exams that are available. Paul Keller, this program's instructor, has selected the IQF certification exam based on its fundamental superiority in assessing the technical skills of qualified applicants.
What if I don't have enough time to complete my program within the time frame provided?
The time allotted to complete your program has been calculated based on the number of hours for each program, so don't worry too much about not completing in time. If, after a concerted effort, you are still unable to complete, your Student Advisor will help you work out a suitable completion date. Please note that a fee may be charged for an extension.
Can this program be taken on a Mac?
Yes; however, the Excel add-ons (Green Belt XL and Black Belt XL) are not compatible with Mac computers.
How can I get more information on the program?
We are partnered with Ed2Go, our site being hosted here: https://careertraining.ed2go.com/Qualical/ Any questions about this course can be answered here, feel free to use the Live Chat, or even call us FREE at (855) 534-3690 to speak to one of our admissions specialists.